A very sad update: Sweet little Tuesday passed away in the loving arms of her family on January 30, 2009.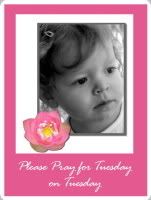 This little girl, Tuesday, has touched my heart more than words can say. I first "met" Tuesday and her family a couple of months ago when I found their blog thru another blog I read. Today Tuesday and her family need as many good thoughts and prayers as possible.
You see, sweet little 2 yr. old Tuesday has now been sent home from the hospital to spend her last few days with her loving family. This after going through treatment for neuroblastoma only for the doctors to find another tumor in her tummy just days later.
Please go
here
to read about Tuesday and offer her family good thoughts and prayers during what I can only imagine is the most horrible situation a parent can live through.
Tuesday's story has hit me even harder than normal as we were told on New Year's Eve that the doctors found that our 19 year old nephew, Shawn, is battling cancer. This nephew is on Mike's side of the family (I met him when he was about 3 yrs old) so I have been trying to step back and support Mike in reconnecting with his family during this time. Mike doesn't know/hasn't shared with me a lot of the details and maybe that is his way of protecting me or maybe he doesn't want to say the words. Please say a prayer for Shawn and his family as well.
Sorry about the sad post!